Magnesium Based Cement
There is a whole class of cement that was very popular in the days before the invention and manufacture of Portland cement quickly replaced its use. Generally classified as magnesium-based cement, this material was used in historic times in Europe, India, and China, among other countries. The Great Wall of China and many of the stupas in India, still standing today, were all made with magnesium-based cements. It is unfortunate that Portland cement has replaced the use of these magnesium products because there are many ways in which they are superior.
Primary among these is the fact that they require much less energy to produce and do not off-gas as much CO2 as Portland cement in their manufacture. The phosphates typically used to combine with the magnesium can even be sourced from animal wastes or fermented plants. Add to this fact that these cements develop considerably greater compressive and tension strengths compared to Portland cement, and you wonder why they are not more commonly used these days. The promotion and proliferation of Portland cement occurred when energy was cheap and health concerns of the public were simply not an issue.
Another advantage of Magnesium-based cements are that they have a natural affinity for cellulose materials, such as plant fibers or wood chips; Portland cement repels cellulose. So you can actually use wood chips as an aggregate to achieve lighter weight and more insulative products. Magnesium oxide when combined with clay and cellulose creates cements that breathe water vapor; they never rot because they always expel moisture. MgO cements do not conduct electricity, nor heat and cold, and have been used for flooring for radar stations and hospital operating rooms.
While a bag of Magnesium cement might cost 2 to 3 times the same weight of Portland cement, that doesn't mean that it is more costly to use. This is because with the attributes of the MgO cement, you can create very strong thin-shelled structures using a variety of lightweight and inexpensive fibers; something that ordinary Portland could never do.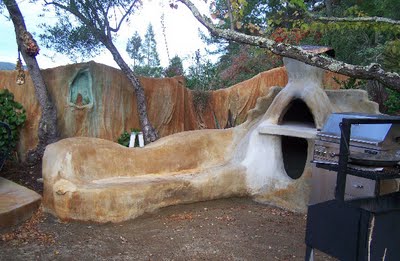 An example of this is what Michael Collins, an artist/visionary/eco-builder, has been creating with magnesium cements. Since these cements completely cure within hours of application, amazing sculptural forms can be created almost spontaneously and become usable within a day. Michael points out that a team of workers could build a small house in one day, and people could be living in it the next. This opens up a huge opportunity for emergency shelters around the world to be constructed almost immediately. There is no off-gassing nor toxic residue to deal with; in fact the material seems to have health-giving benefits for the human body because of its electrical properties.
I asked Michael how much dry MgO/Phosphate cement would be needed to make a small two-room house, and he thought that it could be done with three 50 lb. bags, totaling perhaps $150 in materials. He has described one simple method of building this way which is posted on his questions and answers column. If you have any questions about the possibilities of building with this amazing material, Michael is happy to answer them for you. Just go to the Ask the Experts page. And I have posted a longer article about Magnesium based cements at www.greenhomebuilding.com, that links to several companies that manufacture products based on it.
An interesting example of how this technology is being used can be seen at www.arzbuilders.com where they sell what they call "Concrete Canvas," consisting of "a 3-dimensional fibre matrix containing a specially formulated dry concrete mix. A PVC backing on one surface of the cloth ensures the material is completely waterproof; while hydrophilic fibres on the opposite surface aid hydration by drawing the water into the cement. After hydration, Concrete Canvas hardens to a strong, durable, water proof and fire proof concrete surface."
This same company also sells an inflatable shelter, made with similar materials, that is large enough to serve as a hospital room in emergency situations. "The 25sqm variant can be deployed by 2 people without any training in under an hour and is ready to use in only 24 hours. The key to this Concrete Canvas Shelter is the use of inflation to create a surface that is optimized for compressive loading. This allows thin walled concrete structures to be formed which are both robust and lightweight." I understand that these inflatable kits cost around $25,000 each, making what Michael Collins suggest extremely affordable in comparison.