Super-Insulated Houses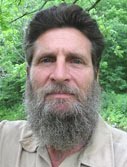 I am pleased to introduce a new "expert" panelist at
www.greenhomebuilding.com
. Robert Riversong has created his own form of the Larsen Truss building system, and specializes in super-insulated houses. He teaches these techniques, and many other subjects, at the
Yestermorrow School
in Vermont.
In an
article about his work
, Robert states, "I've been using and modifying the Larsen Truss super-insulated wall system for 20 years and can build a 12" thick wall (R-40+) with no more lumber than a conventional 2x6 house, in part because I eliminate exterior wall sheathing and use t-braces and full 3/4" drop siding over housewrap. And, with the air-tight drywall system instead of vapor barrier and dense-pack cellulose, there's almost no thermal bridging and a 3 bedroom house can be heated with less than a cord of wood per year here in New England.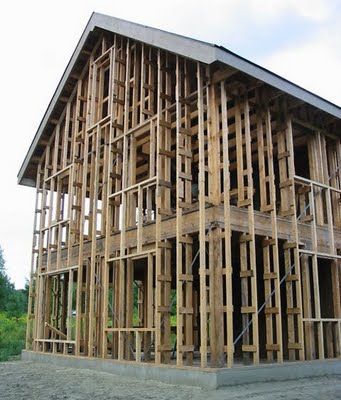 "I also use native, rough-sawn green full-dimension lumber, rough-sawn subfloor and roof deck, and rough-sawn exterior trim. The load-bearing wall is 2x4 24" oc and the exterior chord of the parallel chord wall truss is a 2x3, extending from sill to rafter tail and attached to studs with rough-sawn 1x4 gussets 24" oc."
"The open wall cavities makes the installation of mechanicals simple, since there is little drilling necessary. The three air barriers (drywall, dense pack, housewrap) make the walls virtually impermeable to infiltration. The dense pack cellulose makes the walls highly fire resistant and extremely quiet. Insects and rodents don't like the boric acid used as fire retardant in the cellulose, so these two universal problems are minimized or eliminated. The cellulose is more hygroscopic than wood, so it not only can absorb and release any diffused moisture that might get into the wall cavities but also draws any potential moisture away from the wooden frame, thus protecting it (foam insulations will do the opposite)."
"The only plywood in the house is for door and window boxes, as this makes a better air-tight seal than boards, and for a couple of interior shear walls. Let-in metal t-bracing in exterior and interior load-bearing walls and wooden under-rafter diagonal bracing sufficiently stiffens the structure, particularly once the sealed drywall is installed."
"I find that going from conventional construction to superinsulation adds no more than 5% to the cost of a house and the payback is enormous, both in energy savings and comfort. Some banks are offering higher debt-to-income ratios to mortgagees who buy or build highly efficient homes, since they need so much less income to operate it."
If you have any questions about the Larsen Truss building system or super-insulated homes in general, Robert is happy to answer them. Go to
greenhomebuilding.com/ask_the_experts
to send your question.