Conics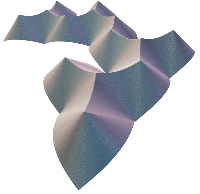 I have had some comments posted at
greenhomebuilding.com
for several years about "conics" as an interesting concept for making very thin-shelled curved structures without the need for much of a structural framework. Chuck Henderson from Northern California first pointed out how sheets of plywood can be attached to each other and warped to form some very interesting shapes, as pictured here at the left.
Then a few days ago Avi Rotem from Israel sent me a description with some images of models that he has made of conical structures made with steel beams erected as tripods as a basic support for the sheet metal which is then wrapped over this. Avi would then have a substantial layer of sprayed polyurethane foam, polystyrene sheets, or locally used insulation like straw placed over the sheet metal. A final layer of polymer modified cement would then be applied with wire mesh at its center to provide a strong weather-tight exterior coating.
For more information about these systems, visit
greenhomebuilding.com
.