Poured Earth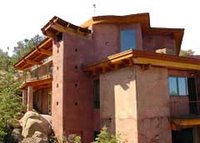 I have created a new page at
www.greenhomebuilding.com
about Poured Earth, which
is similar to ordinary concrete, in that it is mixed and formed like concrete and uses Portland cement as a binder. The main difference is that instead of the sand/gravel used as an aggregate in concrete, poured earth uses ordinary soil (although this soil needs to meet certain specifications) and generally uses less Portland cement. Poured earth could be considered a "moderate strength concrete." Little to no maintenance is required of poured earth walls, since they have a high resistance to the deteriorating effects of the weather.

I have featured this page rather than the Cast Earth page I had featured earlier, because the process is much more user-friendly. Cast Earth is a patented, proprietary system (using quick-setting gypsum as a binder) that really must be accomplished by a crew trained by the inventor. Poured Earth, on the other hand, can be handled by anyone familiar with the pouring of ordinary concrete, and who is willing to make sure that the ingredients meet certain standards.

I am pleased that earth-pouring expert, Michael Frerking, has agreed to answer questions from the public about this method of building.
You can read more about this at www.greenhomebuilding.com/poured_earth.htm.