Sustainable Housing Relief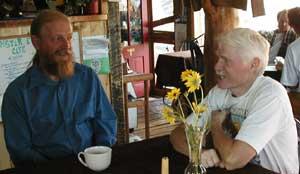 In recent months I have had the opportunity to engage in many conversations with Dr. Owen Geiger of the Geiger Research Institute of Sustainable Building (
www.grisb.org
), and mostly we have talked about ways to create inexpensive, durable homes for people around the globe who are in need of shelter. This has been sparked by the obvious need of victims of the Tsunami in SE Asia to rebuild their lives with adequate homes.
Many of the solutions that have either been proposed or implemented for this purpose have been too expensive, too technological in nature, too impermanent, or culturally inappropriate. Especially in flood-prone areas, we have focused on the use of earthbags filled with locally available materials as the primary building block. These can withstand the onslaught of wind, water, and earthquakes without deteriorating, are inexpensive and simple to construct, and can be used to fashion many different styles of buildings.
Owen has pulled together a team of specialists (architects, engineers, educatiors, etc.) who are willing to help put these ideas into practicle designs that can be built wherever needed. I am proud to be one of these team members. We are currently working on a simple manual that is primarily visual to help convey the steps required for building with earthbags.
I have been in contact with the coordinator of Peace Corpse volunteers in El Salvador, and may be going there to conduct a workshop on this method of building. Owen plans to take his expertise to SE Asia soon, and is looking forward to engaging in hands-on projects in that region. Our motive is to introduce these ideas in places where they can be implemented and then carried on by the locals after we leave. I am sure that I will be posting more about all of this as time goes on.