Sustainable AID Center in South Africa
For the past twelve years Joe Kennedy has been intimately involved in creating sustainable settlements in South Africa, trying to create models of dwellings that could serve the poor. In 2003 he was approached by the NextAid organization to help them create a child support center in a rural town outside of Johannesburg called Dennilton. Dennilton is faced with extreme poverty (95% unemployment) and a 40% HIV infection rate. This center, for a group called Youth With a Vision, will eventually incorporate an orphan/elder ecovillage, performance and study spaces, a micro-enterprise element and sustainable food production systems. It is their hope that this center can be the first of many to serve the over 12 million orphans of the HIV/AIDS crisis in Africa.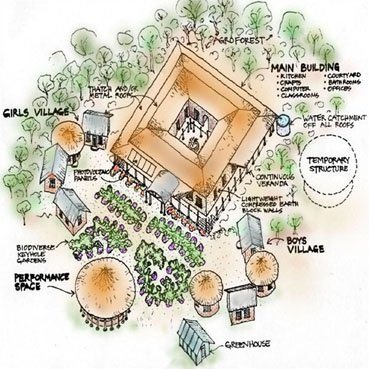 NextAid has purchased a 16-acre piece of land that will be the site of the center. During the 2½ week design/building and training intensive in July they will be developing the design of the center and initiating construction of a house and general purpose space to be used by Youth With a Vision. They will be using local materials such as earth to minimize cost and make the building systems available to the local community. They will be working with a local builder who will be continuing work with the community after the intensive training session is completed. Joe will also be working with local colleagues in Cape Town to develop housing strategies for the crowded townships and informal settlements there.
Joe is seeking to raise $3,000 in the next five weeks to support his involvement in this project and would appreciate your help. Additional information on the project can be found at
http://www.nextaid.org
Donations are tax-deductible and can be made to Village Renaissance, Joe's "social profit" institute founded in 2004. He can accept PayPal(
http://www.paypal.com
) payments (including credit cards) using the email
livingearth62@hotmail.com
Joe Kennedy
Village Renaissance
737 Mill Street
Santa Rosa, CA 95404
Livingearth62@hotmail.com