I have just spent an enjoyable several days pouring over the thousands of posters and art prints available at allposters.com to post the most pertinent and beauftiful ones for your viewing pleasure at
www.greenhomebuilding.com
. Not only can this lovely art grace the walls of your home, but you can study the architecural styles presented for ideas and inspiration.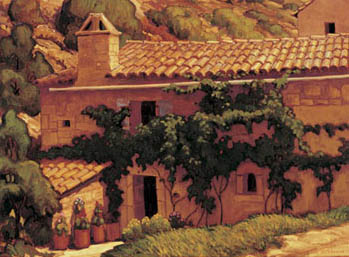 For instance, the ornate majesty and elegance of urban French architecture contrasts with the simpler country forms and together they suggest the sumptuous richness of France.
Classical Greek architecture has endured both in the mind and in reality for centuries. These elegant forms can bring a classical touch to your home.
There is a distinctive mood and flavor to Southwest American art that reflects bright sunshine on cool adobe walls, with a peacefulness and relaxation that is hard to come by these days. These lovely artistic posters can bring this peaceful relaxation into your home.
Altogether I have posted a dozen pages displaying the vernacular architecture of much of Europe, India, Egypt, Asia, and North America. In addition there are special pages dedicated to adobe and stone buildings. The cost of the posters ranges from about $10 to $100, and they are available either as single sheets, matted or framed.